Continuing our Leadership Learning Journey in 2021-2022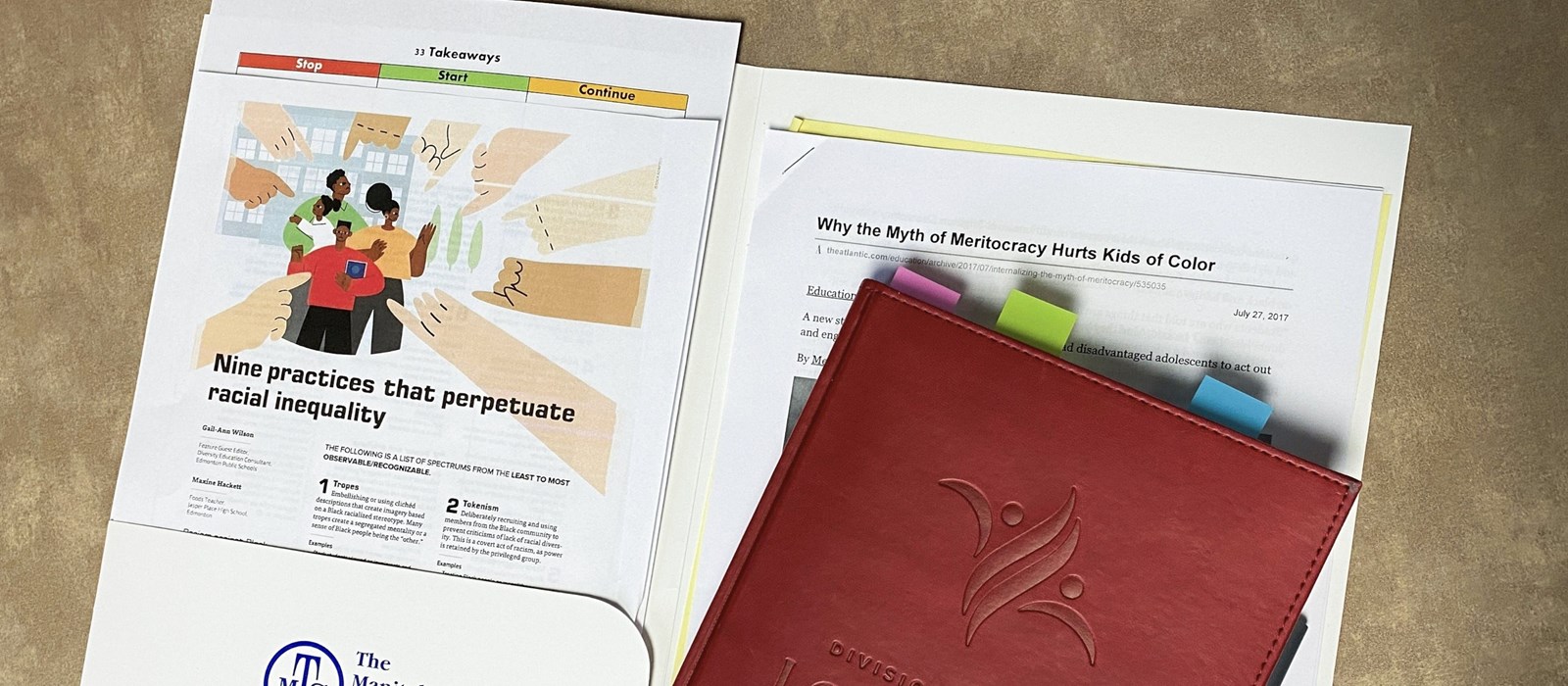 As the next step of our leadership learning journey for the 2021-2022 school year, principals, vice-principals, coordinators, consultants, and members of the Senior Leadership Team participated in an anti-racism professional learning session led by Sarah Gazan and Eric Sagenes from the Manitoba Teachers Society on Nov. 29 and 30.
The facilitators presented an introduction to anti-racism, its historical and contemporary contexts, and the way that racism in its different forms impacts teachers, students, and school communities. They presented real-world examples, articles, and videos to break down ideological assumptions that can often have individuals and communities unconsciously perpetuate racism within the school system.
We explored the importance of admitting our vulnerabilities and anxieties when having discussions about race and forms of racism. We also need to recognize this work compels a journey of introspection to acknowledge power and privilege. One theme that underscored the day was sitting with the discomfort that can come with the work we are currently undertaking in the Louis Riel School Division. Despite that discomfort and inevitable miscalculations when addressing issues of racism and other forms of prejudice, we mustn't be afraid to forge a path forward. Complacency will only further perpetuate inequality and injustice. At the heart of our work is building trustful relationship to find the courage to confront uncomfortable truths about conscious acts of intolerance and unconscious ways of perpetuating prejudice in our communities.
Like our last round of professional learning, in the coming weeks and months, the opportunity to participate in the workshop will be extended to other employee groups in system roles. On Dec. 10, English as an Additional Language, Learning and Clinical Services Teams will join in the learning.
Each of these professional learning sessions is readying us for the work of co-creating the ways in which we will lead an effort to co-create this journey and facilitate this learning with all staff, students, and families within each school community.