Indigenous Council of Grandmothers and Grandfathers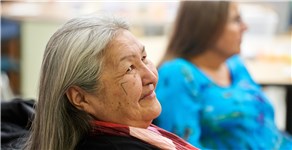 The Louis Riel School Division is honoured to introduce the following eight esteemed individuals as the LRSD Indigenous Council of Grandmothers and Grandfathers (ICGG).
In 2019, the division was incredibly proud to announce that Pahan Pte San Win, Ed Azure, Chickadee Richard, and Wanbdi Wakita had accepted our invitation to become members of the new LRSD Indigenous Council of Grandmothers and Grandfathers (ICGG).
In 2020, we were honoured to welcome Sherry Copenace and W. Yvon Dumont to the ICGG. One year later, Jacinte Lambert accepted our invitation making her the eighth distinguished member of the ICGG.
These extraordinary individuals possess a wealth of experience, knowledge and perspective that will help inform LRSD planning and projects. The ICGG comprises members who reflect five different Nations, including Métis, Cree, Lakota, Ojibwe, Ojibwe-Cree and Dakota First Nations.
The ICGG works with students and teachers across the division to share traditional Indigenous knowledge in schools and classrooms. They also support the Indigenous Learning Team and divisional leadership by helping guide LRSD programming.
Members of the ICGG visited schools across the division to engage in conversations with students and staff about Indigenous ways of knowing and being. When school visits were suspended because of COVID-19 public health protocols, the ICGG connected virtually with more than 1,000 students and staff to provide support and encouragement.
Throughout the school year, the LRSD Superintendent regularly consults with ICGG members to gain their input on how to improve equity, inclusion and well-being for all staff, students and families in LRSD.
Before any divisional leadership meeting commences, a member of the ICGG welcomes the group with an opening address containing a teaching, story or sharing of knowledge. This commitment to an authentic alliance with our ICGG and our diverse community helps ensure LRSD moves forward in a good way.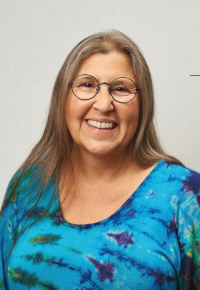 Pahan Pte San Win (Pahah Pteh Sah Wee)
Pahan is Lakota, Cree, and Métis, with family roots that reach back to Wood Mountain in southern Saskatchewan. With formal training in Social Work from the University of Calgary, Pahan has worked as a counseling therapist with Indigenous women, youth, incarcerated men, and residential school survivors for more than 25 years. In 2016, Pahan was presented with the 10th Annual Aboriginal Circle of Educators Award in the category of Honouring Our Elders. She sits on the LRSD Indigenous Council of Grandmothers and Grandfathers and teaches at Villa Rosa and the Alternative School with Pembina School Division. She is a published author, most recently contributing to the anthology Keetsahnak/Our Missing and Murdered Indigenous Sisters by editors Kim Anderson, Maria Campbell, and Christi Belcourt. Perhaps most importantly, Pahan's vision to have a Sundance of Women was realized in 2017 and continues until 2020. For this, she is the Sundance Leader.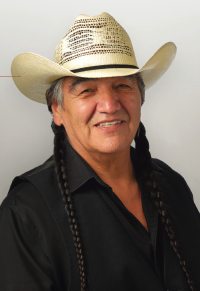 Ed Azure
Ed is an Indigenous Knowledge Holder and a University of Manitoba staff member. He has a Master of Social Work based in Indigenous Knowledges Program (MSW-IK).
Ed was recently the Executive Director of Nelson House Medicine Lodge in northern Manitoba. Ed is Swampy Cree, born and raised in and around the town of The Pas, and is a member of the Norway House Cree Nation. All his life, Ed has worked towards supporting the health and well-being of Indigenous Peoples. In his various postings, Ed travelled extensively across Canada, being employed in Social Services fields such as Alcohol and Drug Abuse, and Education and Health. In addition to his work experience, Ed has designed and delivered numerous workshops, seminars and educational sessions; chaired and co-chaired many conferences and gatherings; and participated on a number of local and regional boards and service organizations. In his current role at the University of Manitoba, Ed serves as Lead and/or Co-Instructor of MSW-IK courses. He is also a Student Advisor Council member, part of the Support to Students team, a facilitator of cultural activities, and represents the MSW-IK operations on University and faculty committees. He is a father, husband and proud grandfather of 14 grandchildren. Ed is committed to ensuring appropriate Indigenous traditional practices and processes are an integral component in all his endeavours.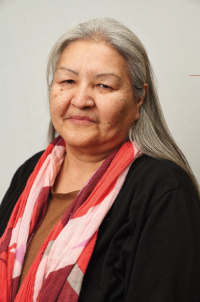 Chickadee Richard (Benais Quimiwin Ikwe) Thunder Rain Woman
Chickadee Richard is a member of the Sandy Bay First Nation and was raised near the west side of Lake Manitoba.
Chickadee is a mother of three biological children, two adopted sons, grandmother of seven children and grandmother to many in the Indigenous communities across Turtle Island. Chickadee has collaborated with many exceptional grassroots leaders of Indigenous communities to help make safe places for Indigenous peoples. She is a proud anishinabaa kwe who has dedicated her life to the betterment of the land, water, and Indigenous communities. For many years, she has been an advocate and educator for change and justice in Manitoba and across Canada, by creating awareness of the strength and beauty of Indigenous culture and perspectives. Chickadee works with people that are open and willing to change the current ways which harm the land, lakes and Indigenous people's ways of life.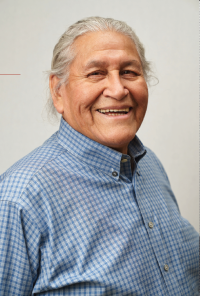 Wanbdi Wakita
Wanbdi is a Holy Man, who has spent a lifetime making prayers for people.
As a residential school survivor, peacekeeper with the Canadian Armed Forces, Chief of Sioux Valley Dakota Nation and Sundance Chief, Wanbdi has walked many paths. For more than three decades, he provided counseling and ceremony to inmates in various correctional institutions. In 2016, he received the Order of Manitoba for his lifelong work to champion a message of healing and unity between all nations. Currently, he is the Grandfather in Residence for the University of Manitoba Access Program and one of the three Grandfathers on the LRSD Council. Wanbdi possesses a rare breadth of traditional, cultural and sacred knowledge.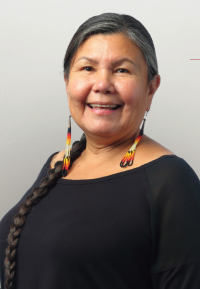 Sherry Copenace - Niizhoosake, Saagimaakwe, Atik n'dodem (Elk Clan), Midewewin
Sherry was born and raised in the community of Ojibways of Onigaming, located within Grand Council Treaty #3 territory on the east side of Lake of the Woods. Sherry is firm in her ways of knowing and being Anishinaabe. Sherry speaks her original language—Ojibway—and has a great love for the Land and Waters. Since 2011, Sherry has led a renewal of Makoosekawin—Anishinaabe young women coming of age teachings and ceremonies. She is part of a Knowledge Keepers Circle at Nanadawegamig. Sherry helps at Anishinaabe Teaching and Sacred Lodges. Sherry has a University of Manitoba Master of Social Work degree and is associated with several institutions and organizations who continually engage her for her knowledge and lived experience.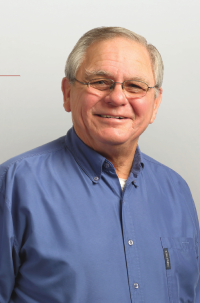 W. Yvon Dumont
In 1993, Yvon Dumont became the 21st Lieutenant-Governor of Manitoba and the first Métis person to hold a vice-regal office in Canadian history. Yvon became involved in the Manitoba Métis Federation in 1967 and became its Director for the Interlake region in 1972. He was chosen as the Executive Vice-President of the Federation in 1973 and served as its President from 1984 to 1993. Yvon was also a founding member of the Native Council of Canada in 1972 and served as President of the Métis National Council from 1988 to 1993. He has participated as a representative of the Manitoba Métis Federation at Canada's First Ministers' Conference and has been actively involved in constitutional debates concerning First Nations and Métis peoples. Yvon has rejected the integration of Métis services into larger Indigenous institutions, expressing concern that Métis distinctiveness could be lost.Yvon has also been a municipal councillor in St. Laurent and was on the Board of Governors for the University of Manitoba. He received a Manitoba Métis Federation Award in 1993, and a National Aboriginal Achievement Award, now named the Indspire Awards, in 1996. He also received a honourary Doctor of Laws degree from the University of Manitoba and Brandon University.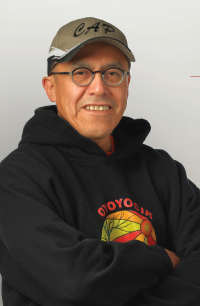 Lionel Mason
Lionel comes from St. Theresa Point, Manitoba. He currently lives in Morris with Lou, his wife, and Mukwa, his dog. Lionel has lived in Thompson, Cranberry Portage, Winnipeg and in a small village in Wakefield, Quebec. As a child, Lionel attended a residential school, but later enrolled in a public school in Winnipeg and graduated from Grant Park High School. He is also a University of Winnipeg graduate with a Bachelor of Arts in Psychology. Lionel has worked as a school counsellor for St. Theresa Point Education Authority, Frontier School Division, Southeast Collegiate, Carleton University and Algonquin College. He has also participated and led several ceremonies. Lionel's teachings come from his home community and from Noah Cardinal, an elder in Saddle Lake, Alberta.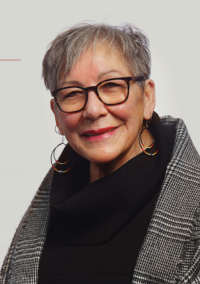 Jacinte Lambert
Jacinte is Métis and was born in the Métis community of St. Laurent, Manitoba. She is a grandmother of four children and great grandmother to seven. Education has always been important to Jacinte who has continually sought learning, be it as a graduate of Red River College's Business Management course or earning her Career Employment Coach Certificate from the University of Winnipeg. Jacinte has dedicated herself to helping and supporting Métis people at every opportunity. Volunteering has also played a big part in Jacinte's life, be it as one of the co-creators of the Métis Days in St. Laurent or as part of the Festival Manipogo winter festival committee. In 2000, Jacinte was approached by a Smithsonian museum representative and asked to be one of the five co-curators of the new National Museum of the American Indian. She spent 10 days working with the designer and curator to ensure Métis people would feel at home when they walked in the exhibit. Currently, as a cancer survivor, Jacinte volunteers her time by visiting and supporting cancer patients in and around the St. Laurent community.