The Sweet Sounds of Sunshine and Rainbows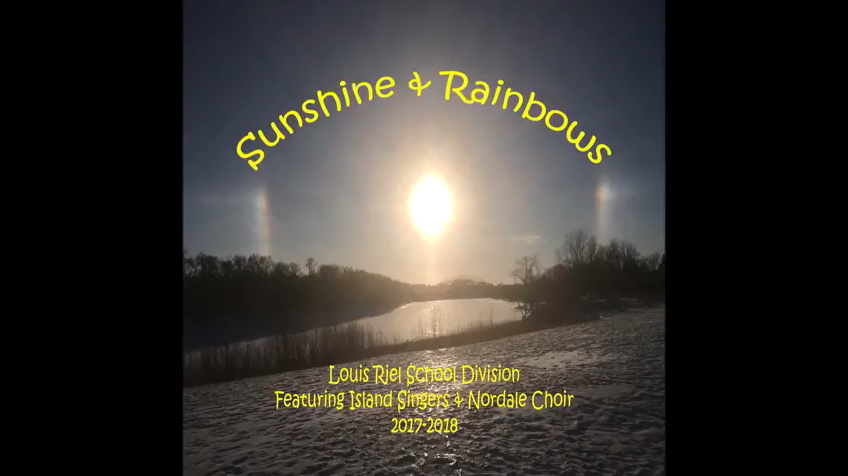 Great Music for a Great Cause
The LRSD summer forecast calls for Sunshine & Rainbows – and community. 

Sunshine & Rainbows is a CD of all-original music put together by talented students from Nordale School, Island Lakes Community School, and General Vanier School. Student choirs and guitar players had a unique opportunity to record their work at Encore Music in Winnipeg.

The original idea for creating the CD came from Nordale principal, Dave Everley, who saw an opportunity to raise money for the Division's RIEL-EVATE program.

RIEL-EVATE is a school community foundation focused on engaging individuals in LRSD with the various communities around them. It's not just for students either; RIEL-EVATE is about creating a positive impact on the community as a whole, reaching beyond the school grounds.

Mr. Everley even wrote a song for himself and the school choirs to sing called RIEL-EVATE (Your Heart) that is featured on the CD. 

The actual recording was spearheaded Robert Hrabluk, an itinerant music teacher in LRSD, who was aided by Island Lakes Community School music teacher, Heidi Serger, and Nordale music teacher, David Stark. The Province of Manitoba Music Month, and LRSD Arts Coordinator Ingrid Pedersen were also integral parts of getting this project off the ground. 

It's not the first time Mr. Hrabluk has helped students record their music. In fact, Sunshine & Rainbows marks the ninth year of bringing students together to share their music with the world! Recordings are usually available on iTunes and YouTube but this year, the CD was created so that the community had an opportunity not only to listen but to support a shared cause.

And while the proceeds go to a good cause, students themselves gain a lot in terms of honing their music craft, taking part in a professional recording session and learning how they can use their talents in ways that impact the world around them. 

You can show your support by purchasing a CD here.

Songs from the CD can be sampled below:

Sunshine & Rainbows (featuring Island Signers & Nordale Choir)

Hey Listen Up! (featuring Island Singers)

Lonely (featuring Gabriela Gesualdo)

Love (featuring Nordale Choir)

Riel-evate (Your Heart) (featuring Island Singers & Nordale Choir)