Transition Planning and Post-Graduation Supports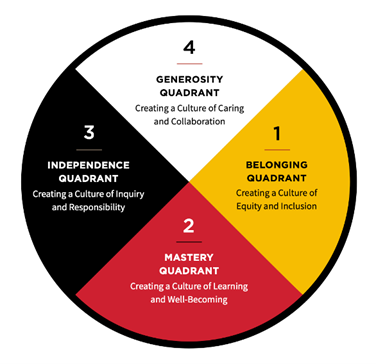 Belonging Quadrant
Sports and Recreation
Dakota Community Center

Programs such as Group fitness and individual training
Play sports such as: Adult Hockey league, Pickleball and Beach volleyball
Fitness Center and Weight room membership
Dakota Fieldhouse, Johnathan Toews Sportsplex, Indoor Rinks, Jumpstart Community Rink
Gym Membership to get access to open gym, open fitness studio, running tracks, eGYM®, TRX® and more.
Attend various fitness drop in classes
                                                    
Fitness Facilities
Anytime Fitness St. Vital
GYM membership to access GYM Amenities, Cardio, Strength/Free Weights, Functional training, and Coaching Services
12 month and 6-month membership options
GYM membership to access Free Weights, Strength training and Cardio Equipment
Group Classes, Personal Trainers and Nutritional Consultants
24-hour access

Small boutique style fitness studio 
Group classes, Personal Training and Senior fit
Special events
24-hour access for members
Different membership options
Personal training, Full Scene fitness academy and Personalized nutrition plan
 
Health and Wellness
Pilates Winnipeg
Drop-in Pilates classes
Virtual and In-Person classes
Drop-in Yoga and Meditation Classes, Specialty classes and Kids/Family yoga
Teacher Training
Drop in Spin classes
One-month memberships
9round boxing studio
·         Kickboxing circuit training
Show up on your own schedule, no restrictive class times
Membership options
 
Cultural
Cultural Programming at Resource Center– call 211
211 can help with day-to-day needs and finding support for stressful situations before they escalate into a crisis
·         211 can also provide support in the following situations, for example:
o   Accessing the job market if you have barriers to employment
Looking for resources related to an emergency or disaster (e.g., shelter during times of extreme weather)
Needing housing and support for homeless individuals
Needing parenting support and resources
Looking for alcohol and/or drug detoxification and treatment
Having difficulty meeting your basic needs (e.g., food and rent)
When you or someone you support requires mental health support
If you recently moved to Canada and need support connecting to resources
The Immigrant Centre provides newcomers with free programs and services including settlement, employment, language, nutrition training, and verification of translations.

Indigenous
MB Indigenous Educational Cultural Center  
Provide programs and services for all ages through the Community Connection Program, the People's Library, and the Heritage Collection.
promote awareness and understanding of Indigenous cultures to all interested people.
 
LGBT2SQ+ community support
 Rainbow Resource Center
Offers support to the 2SLGBTQ+ community in the form of counselling, education, and programming for individuals ranging from children through to 55±. 
Provides 2SLGBTQ+ and ally education, awareness, and outreach that assists healthcare providers, educators, students, social service, and commercial service providers
Has a volunteer program, community library, and coordinates the community-led groups and committees that meet at Rainbow Resource Centre.
Provides a healthy, inclusive, accessible, and safe space for adult folks of the LGBT2SQ+ community and allies to meet, socialize, be active and have fun
Sport and recreation activities include both cooperative and competitive environments that cater to everyone regardless of experience or skill level
Choir of LGBTQ2* community members and allies dedicated to building relationships and expressing and celebrating their diverse identities and experiences through the power of song
Reaching Out Winnipeg is a program that started in 2012 to promote resettlement of LGBT refugees and asylum seekers in Winnipeg and beyond.
Independent mental health charity
Services include supported housing, affordable counselling and anger management courses, employment services, training
Range of well-being services including open activity sessions, support groups, self-management courses, peer-led activities, and a range of therapies and courses
Mastery Quadrant
Educational Centers
 St. Vital Adult Education Center

Personal, social, and academic
Provides a program that leads to a Mature Student High School Diploma
Funded by the government
Post-secondary education accessible for students who face educational barrier
Transitional, Student, Academic and Cultural supports
Guide for students who are transitioning into post-secondary
Issues various problems such as mental health, paying bills, study skills, roommate issues, etc.
Provides support and additional resources  
Online Career and life planning resources
Allows students to track their graduation and research post-secondary options
Educational programming that promotes the development of personal, social, and academic skills.
2 semesters of classes cost $40
Students achieve a Mature Highschool diploma when graduating
 
Post-secondary Institutions
Brandon University
Canadian Mennonite University
Red River Collage Polytechnique
University of Manitoba
University of Winnipeg
Independence Quadrant
Made for students planning their life after high school
Valuable text information on transitioning to adulthood
 
Employment
Job Works
Adult learning center

Several types of subjects
Funded by government

Alternative high school
Educational assistant
Support youth in a variety of areas including mental health, housing, employment, education, and financial counselling to assist with successful transitions into adulthood
Financial counselling after high school (multiple teachers have mentioned)
Life skills, education, and training
Free employment services for youth
Monthly volunteering
Supporting, employment and economic development
Asset building programs and business development services
Language support
Indigenous community collaborations
 
Financial services
First Aid Employment Assistance
For...
Single parent
Disability
General assistance
Benefits...
Food, clothing, personal and household needs
Dental, optical, prescription drugs
Health related supplies or equipment not provided by other programs
Support to find jobs/employment
Income Tax Services
VITA sites offer free tax help to people who need assistance in preparing their own tax returns
 
Justice
Safe Work Manitoba
List of workers rights from The Manitoba Workplace Safety and Health (WSH) Act
Only applies at school age
First Nations children living in Canada can access the products, services, and supports they need, when they need them. Funding can help with a wide range of health, social and educational needs, including the unique needs that First Nations Two-Spirit and LGBTQQIA children and youth and those with disabilities may have. 
Adult Documents and Applications
Identification (forms. ID, Birth certificate, SIN, passports) 
Medical, Mental Health and Wellness 
Walk in clinic and pharmacy 
Klinic
Address the needs of the individual
Helps their clients make informed choices about their health.
Services are provided for individuals and families, teens, and adults within our geographic community and for priority populations. 
(204) 784-4090
Family Doctor Finder helps to connect Manitobans to a family doctor, nurse practitioner or pediatrician
Diverse mix of culturally sensitive programs and services
Counselling, community development, Parenting support, Ask a nurse
Job opportunities
Volunteer opportunities
Generosity Quadrant
Volunteer and Food banks
Volunteer Opportunities Manitoba
Contains various volunteering opportunities and group volunteering
Volunteer referral site
Training, Workshops, and distance learning
Volunteer management resources
Chance to donate money for people in need of food
Donate money for people in need of food
Volunteer
Attend events of Emergency meals
 
Housing
MB Housing
Provides low-income Manitobans in greatest need with a broad range of housing
(Apartments, townhouses, duplexes and houses for individuals, families, and seniors)
Eligible if you are a Canadian Citizen, a permanent resident of Canada, a refugee claimant or have legal status to live and/or work in Canada.
Winnipeg Rental Network
RAY: Resource Assistance for Youth
Affordable housing for youth
Resources on How to look for a job, housing,
Basic needs program (clothing, hygiene products, and showers)
Distributes no cost household furniture and clothing supply for vulnerable
Effective ally in the battle against poverty so that the most vulnerable may live in a dignified manner
 
Access center
Winnipeg Public Libraries

Access to books
Access to computers
Quiet place to study
 
Parks & Trails
St Vital Park
Dakota Park
Seine River Greenway's Trail
Beliveau Forest
 
Seasonal Activity Resources
Spring Summer activities - Tourism Winnipeg
Winnipeg Leisure Guide - Winnipeg Leisure Guide