EJR Multi-Year Strategic Plan 2019-2023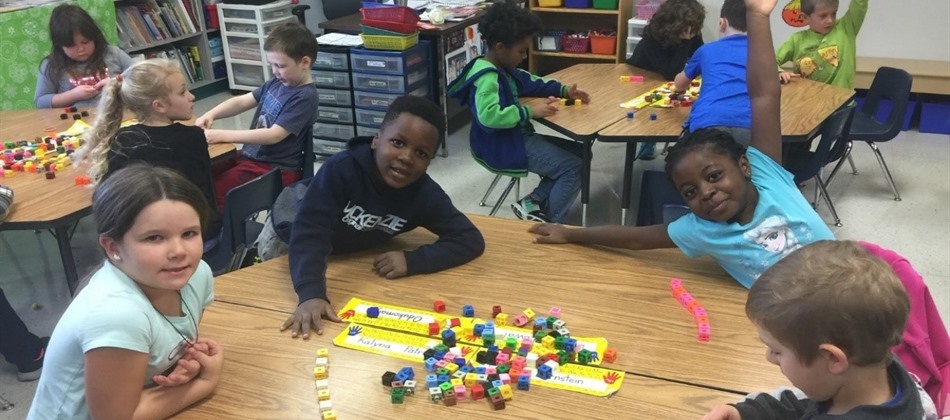 École Julie-Riel
School Plan 2019-2023
Kindergarten - grade 5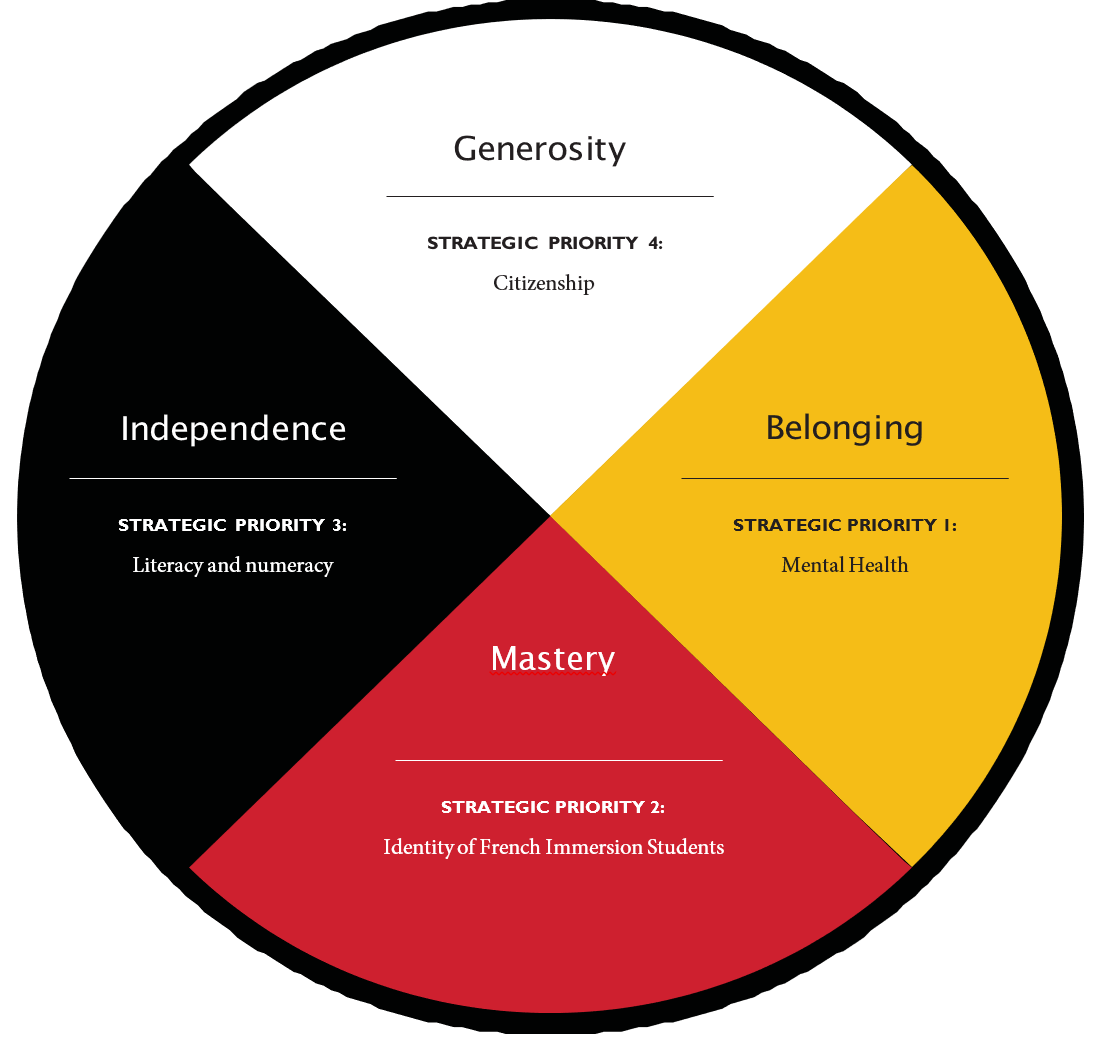 Our four strategic priorities correspond with the quadrants of the Circle of Courage, an indigenous inspired whole-learner framework which is based in the four universal growth needs of all children: belonging, mastery, independence, and generosity.

Staff at École Julie-Riel is committed to providing a caring and inclusive school environment for our students.  Offering the best education possible means we must set goals and revisit them regularly.  Each year, all schools in LRSD select priorities that align with the divisional multi-year strategic plan which guides our efforts related to how to best answer students' needs.  For the 2019-20 school year, École Julie-Riel has identified four priorities that we will work on:
Belonging - Creating a Culture of Equity and Inclusion
The universal longing for human bonds is cultivated by relationships of trust so that a child can say, "I am loved"/ "I belong".  At École Julie-Riel (ÉJR), we strive to ensure that our students feel respected, accepted and supported by their teachers and classmates. We want our school to feel like a safe second home for students and staff.  It is critical that students develop a sense of belonging in school as it is linked to student engagement and achievement and contributes to a students' overall sense of well-being and well-becoming. École Julie-Riel staff has been investing much time and effort to ensure that each of our students feel like they belong and are supported. Since the beginning of the year, teachers have been using the Responsive Classroom model, which is a student-centered, safe, inclusive socio-emotional approach to learning and discipline in which all students have a sense of belonging. As a school, we have also been working at creating an inclusive environment of belonging in which differences are celebrated. We organize monthly assemblies in order to create a sense of belonging as a school and a deeper connection to one and other. Various clubs, sports and events in the school such as Board Games, Chess, Knitting, Intramurals, Patrols, Talent Show, Annual Field trips, Circle of Courage Bulletin Board, EJR School Wear, Spirit Weeks, etc. also contribute to a student's sense of belonging to ÉJR. We mindfully take the time to appreciate students and staff, particularly when they make a positive contribution to our school life.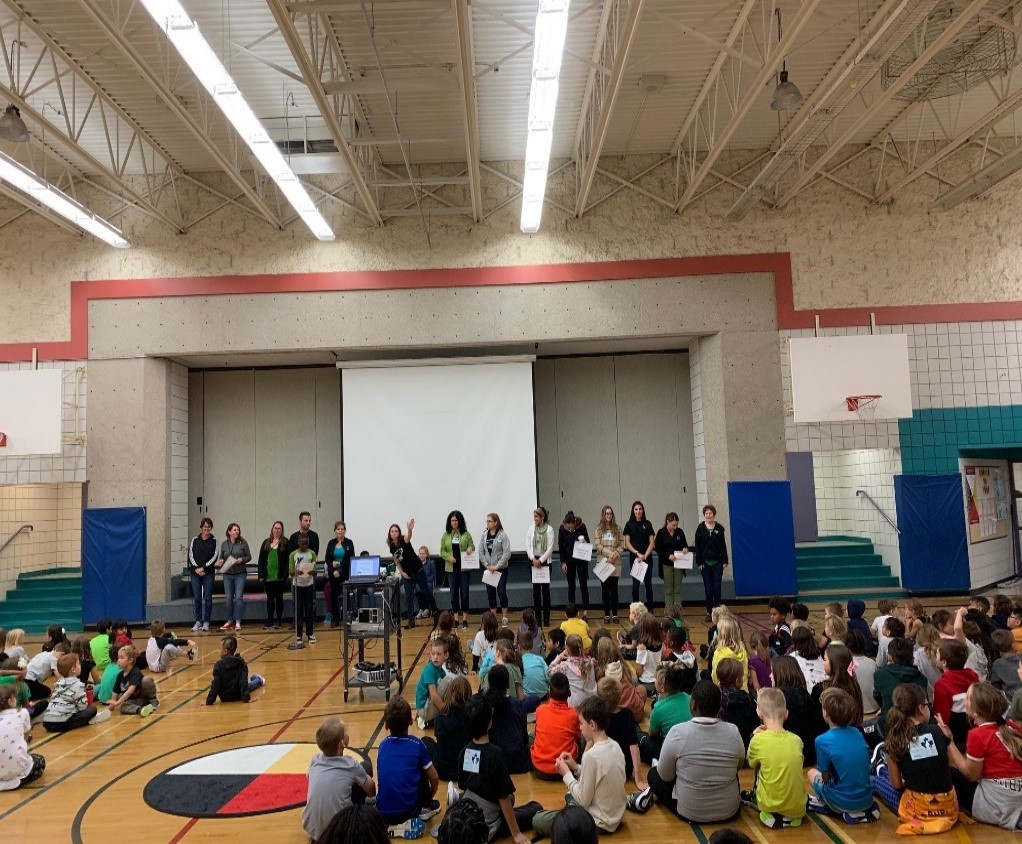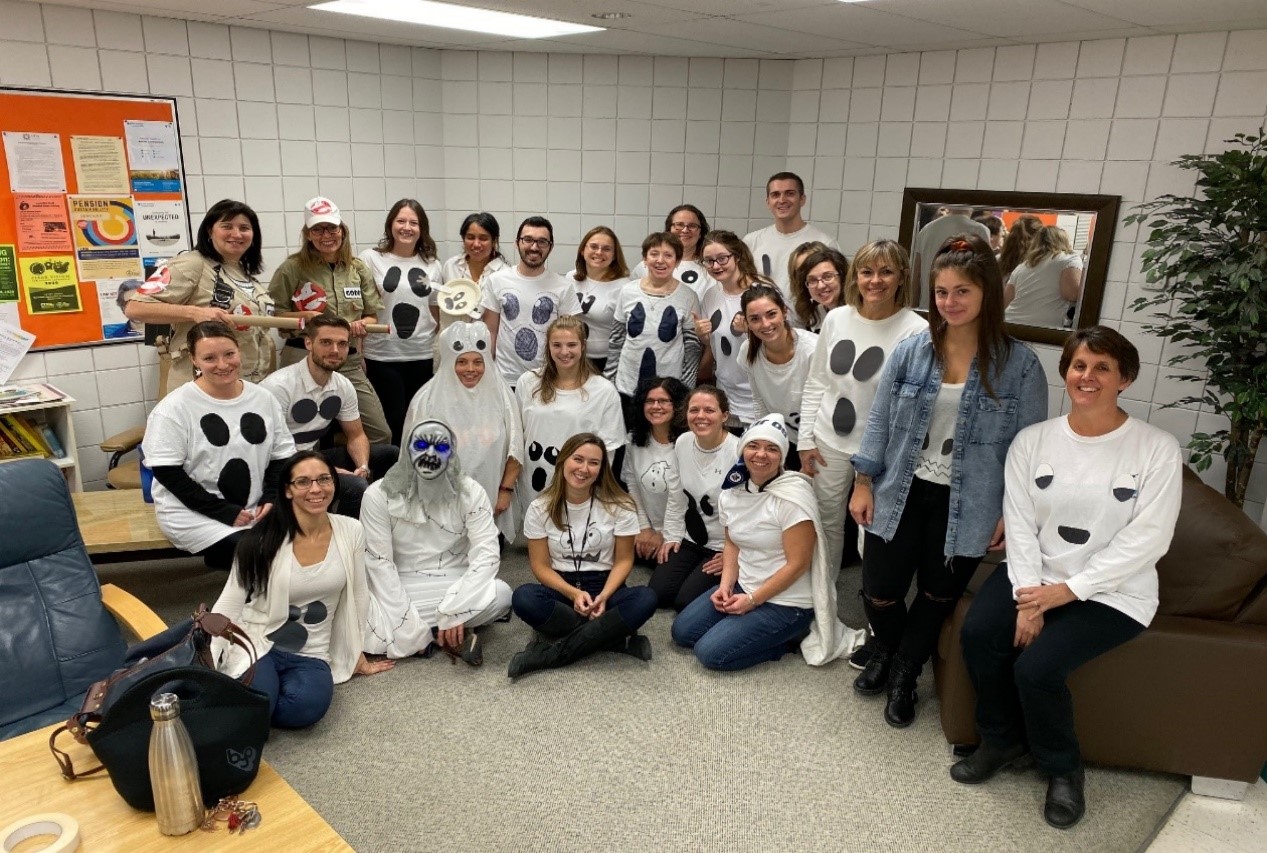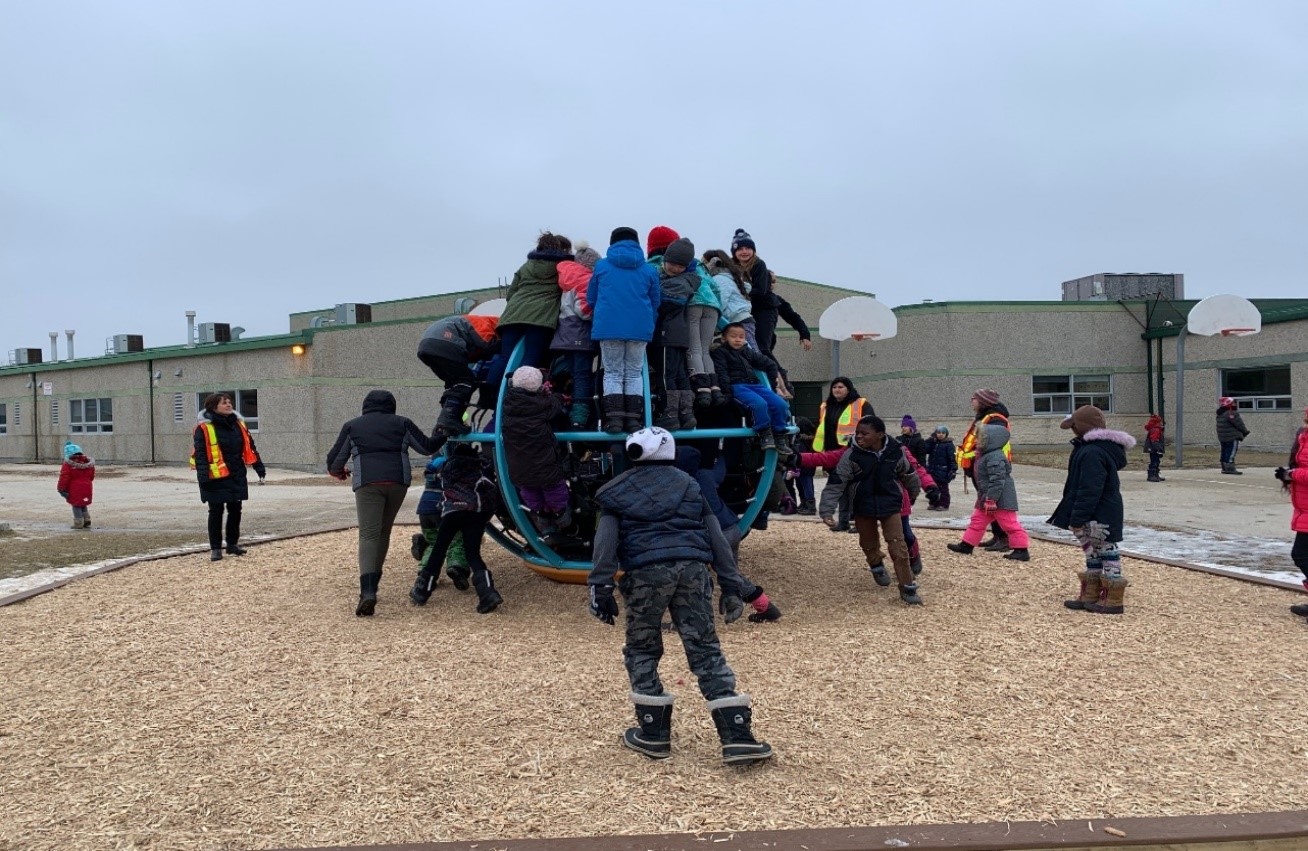 Mastery - Creating a Culture of Learning and Well-Becoming 
Humans have an innate drive to become competent and solve problems. Each person strives for mastery for personal growth rather than to be superior to someone else. Developing skills that help students produce and exercise competence, achievement and control over self. The inborn thirst for learning is cultivated; by learning to cope with the world, the child can say, "I can succeed".  With success in surmounting challenges, the desire to achieve is strengthened. At École Julie-Riel, we have been working at promoting a growth mindset which is the belief that humans are able to attain mastery in various competencies as intelligence can be developed. Students with a growth mindset understand that their intelligence and abilities will improve through hard work, using effective strategies, making mistakes and asking for help from others when needed. The key word in the growth mindset is yet.  Students self-talk becomes " I don't know how to do this math problem yet, but I am confident that I will get there one day soon". This is a contrast to someone with a fixed mindset where intelligence is viewed as a fixed trait, set in stone at birth. Developing mastery at our school means that children get to try and try again. Through feedback our students revise their work, their attitudes, their behaviour, try new approaches, and continue to make mistakes until mastery is achieved. Students set goals, self-monitor and reflect. They are given opportunities for creative thinking, being innovative and to problem solve on their own. Kelso is a program that helps students learn to resolve problems on their own. Students have the opportunity to discover and develop talents and interests, resolving conflicts and disagreeing appropriately. Mastery is the quadrant that encompasses our literacy and numeracy goals. Developing a growth mindset enables students to succeed in their learning and in the various activities we run such as I Love to Read Month, Literacy circles, Daily 5, Guided math, Group partners and use of technology, etc.
The goal of the French Immersion Program is to develop proud, confident, engaged, plurilingual global citizens. The French Immersion Program enables students to interact spontaneously, independently and confidently in French with pride and ease. They seek opportunities to engage in the Francophone community. Their identity as Canadian citizens, competent in both French and English, creates lifelong opportunities and fosters openness to other languages and cultures. (Manitoba Education, 2017) 
The second component to mastery at our school is to provide students with a rich, varied and supportive francophone learning environment in which our students can develop their second language skills by interacting in the French language. Ongoing interaction in French develops fluency and accuracy and supports comprehension and communication. École Julie-Riel continues to promote significant, relevant and engaging use of language so that students can co-construct their identity. Each student enters school with their own unique identity which develops through family, friends, community, the groups they belong to, languages spoken at home, culture, beliefs, values and experience. Their identity as learners in French immersion is constantly evolving continuously based on their interactions with their environment and the people around them. Through activities in and out of the classroom, we strive to create a francophone environment where students feel a sense of pride to use their French skills and are intrinsically motivated to use their new language. Teachers and staff have participated in professional learning opportunities to deepen their additional language pedagogies and better understanding the new goals and vision of the French Immersion Program in Manitoba. Offering as many French opportunities as possible when we have special guests or out on field trips, allows students to practise their language skills and understand how this beautiful language is spoken in other contexts than the classroom.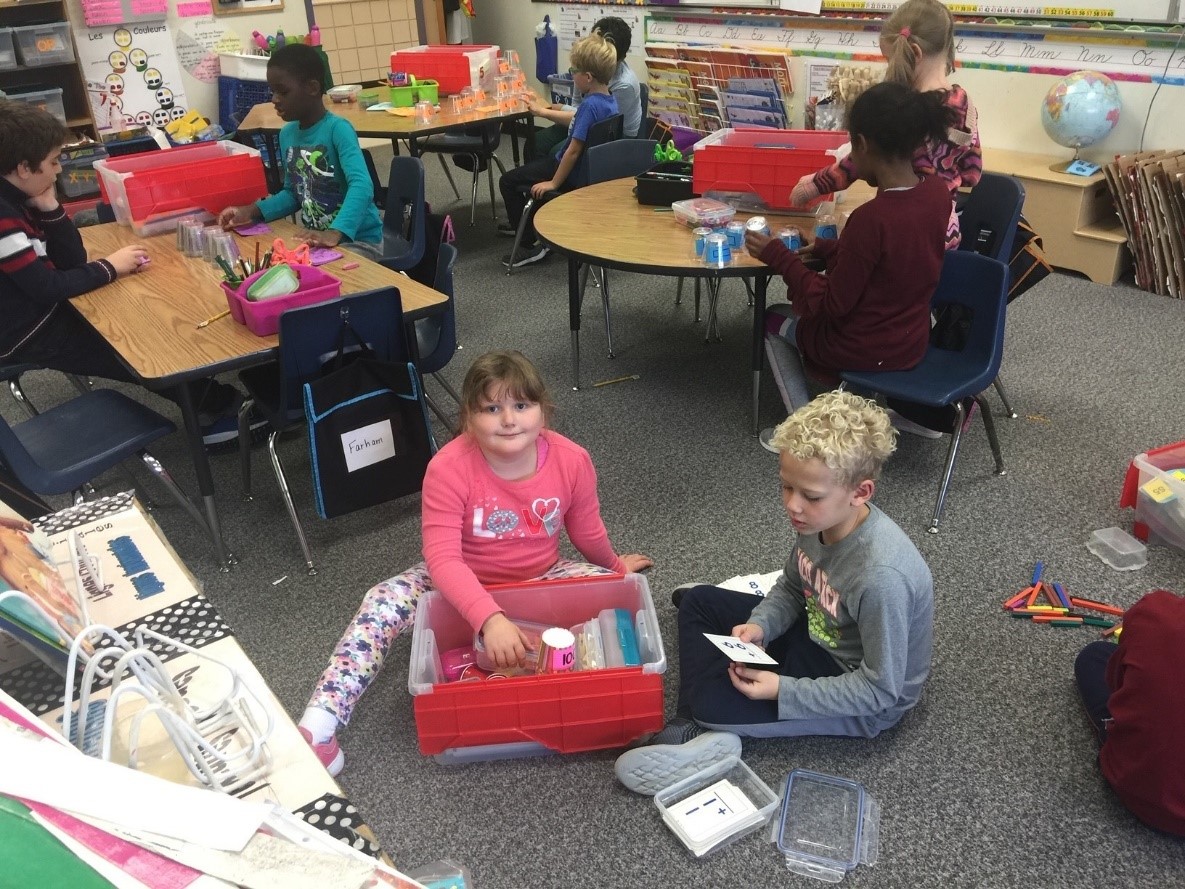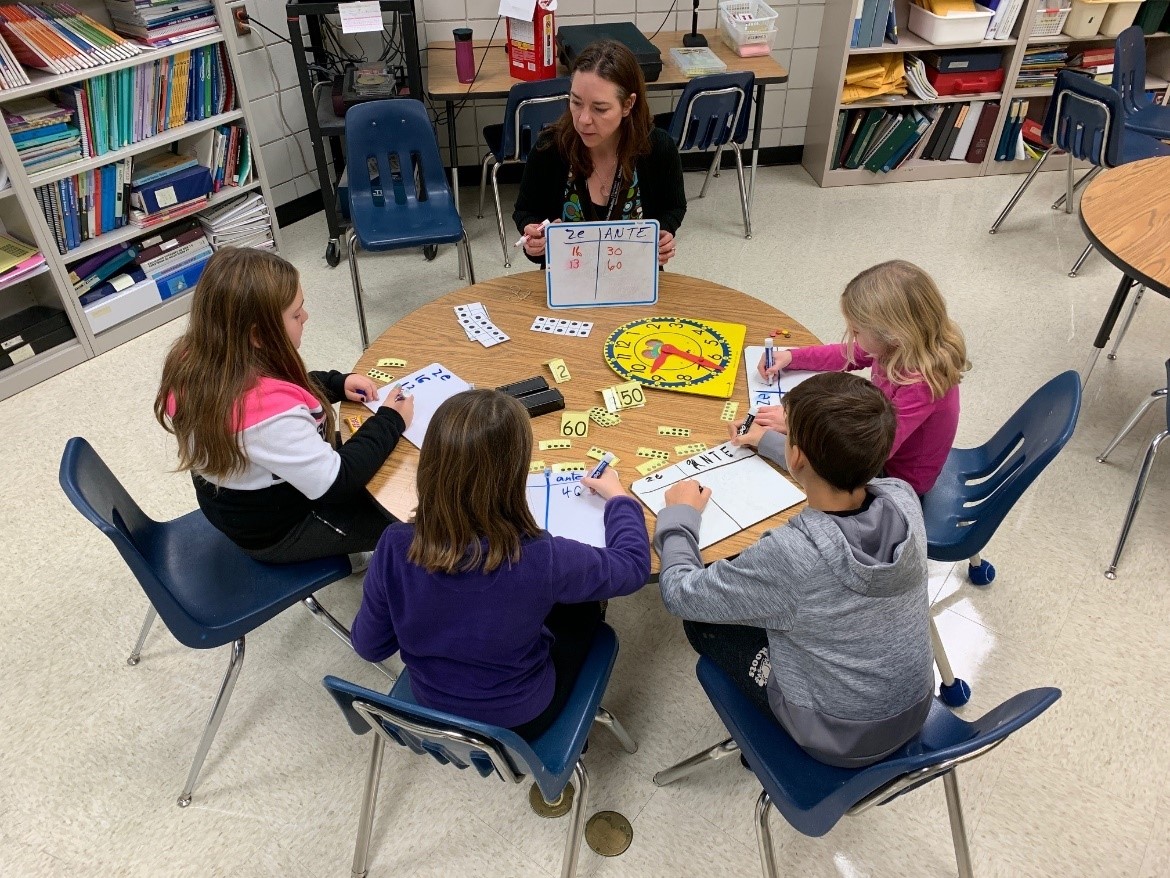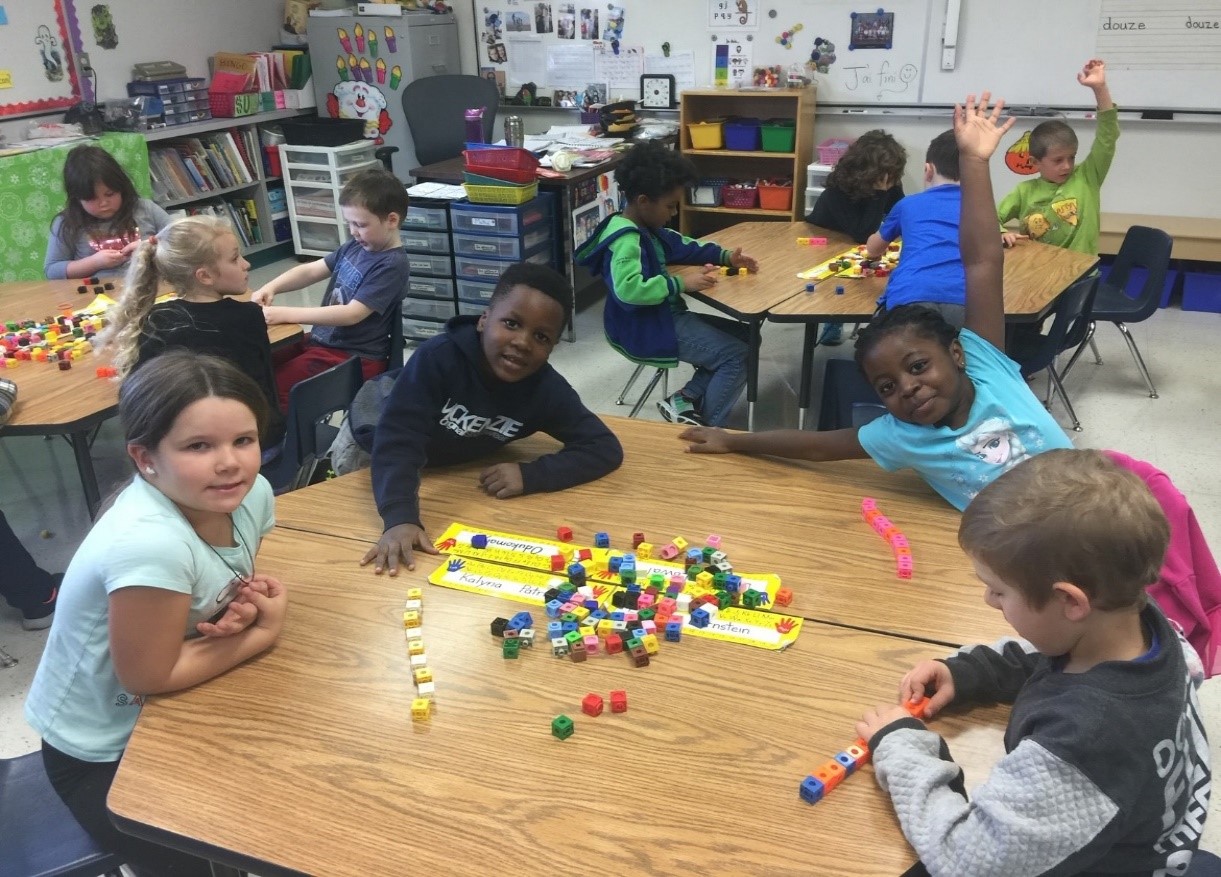 Independence – Creating a Culture of Inquiry and Responsibility
Indigenous teaching was designed to build respect and teach inner discipline. From earliest childhood, children were encouraged to make decisions, solve problems, and show personal responsibility. Adults modelled, nurtured, taught values, and gave feedback, but children were given abundant opportunities to make choices without coercion. Teachers and staff have begun working to establish a Gradual Release of Responsibility framework at École Julie-Riel. This model which is also referred to as the « I do, We do, You do» model provides scaffolding to the learners. The teacher begins with direct explicit instruction (I do) and moves to guided instruction (We do) and finally to independent practice (You do). This is our current model for teaching literacy and numeracy. We are working to develop this school wide. Over the past few years, teachers at ÉJR have been part of Divisional PLC's (Professional Learning Communities) in order to support students with its implementation. Student choice is critical to becoming independent.  Strategies such as Kelso's Choice gives students options to resolve problems. Being good models is important and we often have collaboration between younger and older groups to help model certain skills.

Generosity - Creating a Culture of Caring and Collaboration
In the Indigenous culture, the central goal in child-rearing is to teach the importance of being generous and unselfish. In the words of a Lakota Elder, "You should be able to give away your most cherished possession without your heart beating faster." In helping others, children and youth create their own proof of worthiness: they make a positive contribution to another human life. At École Julie-Riel, we have been working at becoming generous citizens.  We provide our students with opportunities to demonstrate humanity in helping others. When we can be generous with our time and gifts/talents, we have a purpose to life. As generosity is woven into the daily fabric of our school, students are developing their skills in this area, on a daily basis. Through formal and incidental teachings, students and staff cooperatively support each other in their learning. There are many cross-class groupings in which older students help younger students such as math and reading buddies and our student lunch monitors. Our street patrols give of themselves daily to ensure that our families cross the street safely and our kindergarten patrols support younger students in preparing for recess and home time at the end of the day. Our students and staff also give of themselves to support those in our community who are less fortunate. We organize food drives and various fundraisers to support worthy causes such as Terry Fox and Cancer Research, Morberg House, Siloam Mission and Winnipeg Harvest, just to name a few. Over the winter holidays, many students gave the gift of themselves by making presents for neighbours, shoveling sidewalks in the neighbourhood, making and delivering handmade cards, doing odd jobs for their family members, wrapping gifts for charity, etc. Through acts of service students develop many positive qualities and skills such as empathy, gratitude, responsibility, the benefit of sacrifice, connection to community, problem-solving skills and the empowering knowledge that one person really can make a difference.  Two classrooms are taking part in the Roots of Empathy program that enables students to learn about healthy growth and development, to recognize that we are all different and that differences should be appreciated, finally to learn how to support one and other, especially in respecting others' ideas and opinions.