Keen on Green Program
​Keen on Green / Vert C'est Super is the official name of our school greening project. The goal of the project is to create a visually appealing, natural play space with areas for learning, shade and seating. The plans for the project include an outdoor classroom, winding pathways, a butterfly garden, raised beds and a number of seating and shade areas. We also hope to incorporate "stepping posts"—an element identified by the students as necessary! We hope that the area will become a gathering space in which students and the community at large can come together to play, learn, relax and enjoy.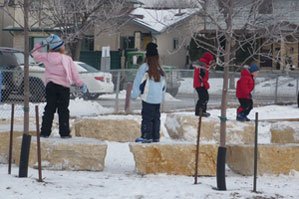 The ESG PAC agreed to officially support this project in June 2007. It is expected that the project will take 4-5 years to complete, and will cost between $30,000 - $50,000. Funds for the completion of the Keen on Green / Vert C'est Super project will be raised through PAC fundraisers and from various grants.
If you would like to be involved in the Keen on Green / Vert C'est Super project, please call the school at (204) 254-0120 and leave your name with the school staff. A member of the Environment Committee of PAC will contact you.
Milestones
June 2007: PAC agreed to fund and support the greening project. The students were shown a PowerPoint presentation and were asked what they wanted to see in their school yard. Lots of drawings and written requests were received.
August 2007: Landscape Architects were hired to draw out plans, based upon the students' requests.
Fall/Winter 2007: Meetings with the landscape architects, school division officials and City of Winnipeg officials. Final plans received from the landscape architects.
Spring 2008: Decision to start the project with Phase One -- an outdoor classroom. Partial funding received from Toyota Evergreen Learning Grounds program.
September 2008: Circular 28 foot area excavated and filled with wood mulch for floor of outdoor classroom. Four large shade trees planted around this area. Students voted on the official name of the project – Keen on Green / Vert C'est Super.
November 2008: Eleven limestone blocks installed onto wood mulch floor of outdoor classroom. These blocks will provide seating.
ESG's Keen on Green / Vert C'est Super project has received funding from the Toyota Evergreen Learning Grounds program.