Weekly reminder for September 11-15th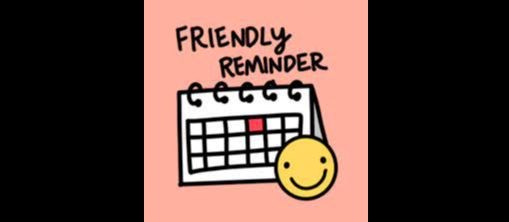 Good afternoon ESG families,
Please note our weekly reminders for the week of September 11-15th
Community reminders
We try to send out a weekly reminder on Fridays to families regarding our upcoming school events and information. If you would like to add another email address, please contact us at the school office.
Multicultural calendar
As part of our ongoing commitment to prioritize Diversity, Equity, Inclusion and Anti-Racism, we are compiling a multicultural calendar of observances, holidays and celebrations that are important to students and members of our community. Please complete the following survey. https://forms.office.com/r/TEJ9A7KbgA
Consent to Share Contact Information for ÉSG students
We are asking all families to sign a form that provides, or does not provide, consent to share contact information for ÉSG students. Please see the attached document for more information. You can either sign the form and bring it to the office or email it to lise.mckellar@lrsd.net if you haven't done so.
Orange shirt – Deadline: Wednesday, September 13th
LRSD schools and offices will be recognizing Orange Shirt Day/National Day for Truth and Reconciliation in acknowledgement of the residential school system and its impact on the children who attended and their families. As affirmation of our commitment to ensure that everyone around us matters, please consider purchasing a divisional orange T-shirt to wear. Our shirts were designed by Indigenous Graphic Designer Joshua Hunt.
Shirts are now available to purchase until September 13 for $8.50 (inclusive of taxes). No late order will be accepted. Please attach the order form with payment. Cheques payable to ESG. Exact cash only.
Lunch monitors
In the coming weeks, we will be starting the grade 5 lunch monitor program. Student volunteers in grade 5 help the adult Lunch Supervisors with the supervision duties of the grade 1 and 2 students. Though the main supervisory duties are done by adults, the student volunteers may help with opening lunch containers, playing games with the younger students before they go outside for recess, and occasionally seeking the help of the adult supervisors if necessary.
Absence
If your child is late or away from school for any reason, please don't forget to contact us. For safety reasons and with the goal of clear communication, each child's absence must be justified (by a parent) for each day that your child will be absent (even in the case of consecutive days away). If communicating your child's absence by email, we ask that you email all 3 secretaries at lise.mckellar@lrsd.net, nicole.dusablon@lrsd.net and dawne.wilsongrenier@lrsd.net.
Roots of Empathy
Are you a proud parent with a new baby? Will your baby be 2 – 4 months old in October? You and your baby can make a lasting difference in children's lives in your community! Please see the attached information brochure for more information about the Roots of Empathy program.
Canteen/milk cards – Grades 3-5 only
As you know, our canteen has been up and running again this year. Many items have proven very popular, and we are finding that providing exact change for the many denominations of bills that are being used to pay for items is a challenge. We've also received positive feedback regarding the milk cards, so we are going to add a "canteen card" to the process. Canteen cards can be purchased for $20 at the office by cash or cheque (payable to École St. Germain) and can be used for any canteen items (including milk/juice). All cards will be stored at the canteen. As is the case when a $10 bill is sent to school for example, as a pre-paid card we won't be monitoring the purchases made from that card. We simply deduct purchases from the card amount as it is used. Once canteen cards are completely used, they will be sent home with your child so you may know that a new card is needed. If you wish to indicate that canteen cards are only used for milk/juice only or a daily limit, please include a note with the payment. Please note that items can still be purchased without the canteen card. (Menu is attached)
Please note that our canteen is only available for students in Grades 3-5. We ask that older students do not buy for their younger siblings as this would be unfair to those who don't have older siblings in the school.
Milk/juice cards for Grades 1-2
Our milk and juice program for students in grades 1 and 2 will stay the same. A milk/card juice card can be purchased for $20 (for 20 milks/juices) or $1.00/each. Milk/juice cards can be purchased directly at the office by cash or cheque (payable to École St. Germain). Milk/juices cards for grades 1-2 are kept at the office for safe keeping. Every morning students are asked by their classroom teacher if they would like a milk/juice. All milk/juices will be delivered just before lunchtime for students in Grades 1-2.
Microwaves
There are microwave ovens available for students in Grades 3-5. However, for safety reasons, Grades 1 and 2 students are not allowed to have access to microwaves during the lunch hour.