New drop off and pick up parking and stopping signage implemented
Shamrock School has partnered with the City of Winnipeg Traffic Division to enhance safety and traffic flow, during school pick up and drop off times. The City of Winnipeg implemented changes to the traffic flow in the immediate neighbourhood. These changes include alterations to the stopping and parking zones surrounding Shamrock School and changes to school bus traffic. The purpose of these changes is to create safe drop off and pick up zones for parents/guardians as well as reduced traffic along Shamrock Drive.
Please take a moment to review the following updates and familiarize yourself with the new guidelines.
In accordance with the WPA By-Law 86-2016, there are "No Parking Anytime" signs located on Shamrock Drive and Beaverhill Boulevard. The City of Winnipeg has installed "No Parking Anytime" signs where former "No Stopping" signs were on Beaverhill Boulevard. These designated areas will help ensure a smooth flow of traffic while allowing parents to safely drop off or pick up their children.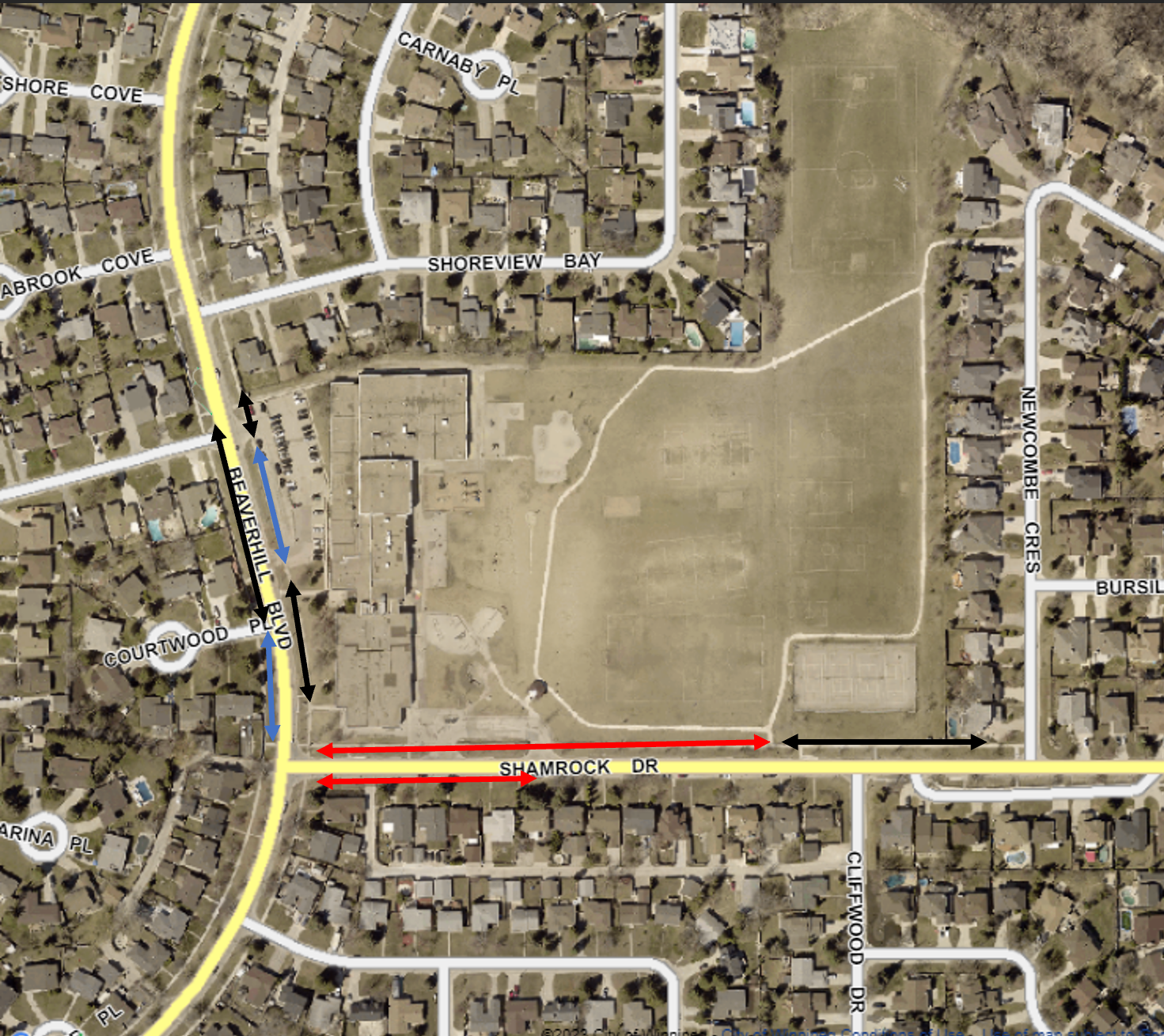 No Parking Anytime/BLUE ZONE:
Vehicles are allowed to make brief stops for a maximum period of 5 minutes, provided the driver remains inside the vehicle. This means that you can still stop to wait for your child, but please remember to stay in your vehicle during this time.
No Stopping/BLACK ZONE:
Please avoid stopping or parking in areas with BLACK arrows, as this is not permitted.
Changes to Bus Traffic and Turning Clearance/RED ZONE:
To accommodate the queuing of school buses efficiently, we have made some adjustments to the bus loop and turning clearance (RED). The buses are staged on the right side of Shamrock Drive and exit to the right out of the bus loop.
While buses are not restricted from turning left, any shorter buses that are physically able to make a left turn may do so as well. Additionally, once the loop and the RED area are full, any additional buses will queue up on Burmac Road with a 5-minute hold.
The Division is continuously monitoring the traffic situation at Shamrock and is committed to making further changes to ensure student and staff safety, and have also implemented the following safety measures:
Assigned a crossing guard at Beaverhill Boulevard and Shamrock Drive to help students cross the street; and
Assigned additional staff to assist with bus loading and unloading during drop off and pick-up times.
These modifications have been carefully considered to enhance the safety and efficiency of our school's traffic flow. We understand that these adjustments may take some time to get used to and appreciate your understanding and cooperation as we work together to implement these changes effectively.
Should you have any questions or concerns regarding the traffic and parking changes, please do not hesitate to reach out to the school administration.
Thank you for your attention to this matter, and we look forward to your support in ensuring the smooth implementation of these changes.