Who We Are
​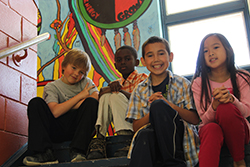 Frontenac is a Kindergarten to Grade 8 school located in Windsor Park, and is committed to developing a community of interdependent, lifelong learners in a safe environment.
Our school comprises more than 440 students, and a dedicated team of custodians, clerical personnel, instructional assistants, teachers and administrators.
One of Frontenac's greatest strengths is the tremendous involvement of its parents and families. We value all of our supporters, as they have made Frontenac School a vital part of the community for more than 40 years.
Frontenac By The Numbers
Grades: K - 8
Number of Students: 408*
* Data collected in August 2018